Profile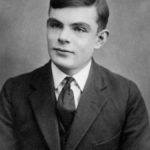 Alan Turing
Put me on the note because I helped save the world from the Nazis with my codebreaking, and made modern computing possible!
My CV
Lived:

Born: 1912, London (but grew up in Hastings and Guildford) Died: 1954, 16 days before his 42nd birthday, from cyanide poisoning, this was recorded as suicide but the evidence suggests it also could have been an accident.

Occupation:

Worked at the top secret Bletchley Park codebreaking facility during WWII and also as a reader in computational biology at University of Manchester

Known for:

Breaking the enigma cipher and developing early computers

Field:

Maths, cryptography, computing, artificial intelligence
One sentence about me: I helped brake the Nazis' toughest codes and make computers what they are today.

About Me:

Code-Breaking

I played a major role in decoding the cryptographic cypher (code) used by the Nazi Luftwaffein World War Two- Enigma. It is thought that the work of myself and my colleagues at Bletchley Park, the UK's top secret decoding facility shortened the war by several years and saved millions of lives. Because this work was so secret I couldn't publish or share any of my scientific achievements, some of my work was only released by GCHQ in 2012.

Computing and Artificial Intelligence

After the work I worked in the field of computing and artificial intelligence. I helped build an early computer at the University of Manchester, the Manchester Automatic Digital Machine. I was one of the first to use a computer as a model to study how the human brain works and how a computer could emulate it, a practice which is increasingly popular today among researchers in robotics, neuroscience and psychology.

I joined the Ratio Club, and I gave important contributions in shaping what it will one day be known as cybernetics. I created the first software designed to beat a human world chess champion, the Turochamp. Unfortunately, there were no computers capable of doing the calculations I needed in 1952, so I had to do all the calculations and move the pieces by myself. This was the first attempt at creating a software to  beat a human at chess, event that happened only in 1996.

I was the first to hypothesise that machines can think and learn and I correctly predicted that this might happen at the end of 20th century. I came up with the Turing Test which checks if a software is able to fool a human into thinking it is another human e.g. something like Alexa could try and pass the test (but should fail!).

As part of my PhD, I also invented Turing machine, the first formal definition of an algorithm and the basis for modern computers. The Turing machine is a model of a tape-based mechanical computer, it is today used as an idealised version of a modern computer. It measures how many steps an algorithm has to perform to achieve a goal given the most nasty input you can imagine of. If it exists an algorithm for a Turing machine which can find a solution to a problem in a time proportional to the size of the most evil input you can think of, then a modern computer can find a solution to the same problem as well. For example, imagine you broke into Hansel and Gretel's witch house at night with a big bag, and you want to steal the most tasty chocolate and sweets you can and leave the least tasty behind. The house has 100 different sweets of different sizes and weights and you can hold only the best 15. If the Turing machine is able to find the best 15 in 100 steps (as many steps as sweets) then an app on your mobile can find the best 15 as well in few seconds (since modern computers are much faster than mechanical computers). If the Turing machine cannot find the best 15 in 100 steps, then it is possible that you will need no less than several million years to find the best 15 because a modern computer won't be able to find a solution faster than that, no matter how powerful it is. In that case, it's better to use an approximation, which doesn't give me the best 15 but only 15 sweets tasty enough (and some cracker…), otherwise the police might come and put you on a diet! In this type of problem specifically, several million years is the best that can ever be achieved, unless someone else comes up with something better than a Turing machine. In other cases better technology might speed up things, but for some problems this makes no difference.

The fact that a Turing machine takes several million years to find a solution is not always a bad thing. If the algorithm we are analysing is encrypting a digital document, a few million years might not even be good enough- a few super-computers working together could reduce this time to a few days and crack the password.We can afford to wait a week, if we are trying to acquire some top secret military technology specification. My work on the Turing machine has been expanded over the years, and it is still a fundamental result of computer science as it is used as a point of reference to evaluate if the best solution to a problem can be found or if it is not even worth trying because the problem it is intrinsically too hard to solve to be impossible, so it is best to just give up and look for a solution somewhere else than in a computer.

For example, another important result in computing theory I did is using the Turing machine to prove that there cannot exist a program which checks whether another program will ever terminate. For example, when you get those annoying Windows updates when you try to turn off your machine: often Windows shuts down it might start a very long and complicated update but it's impossible to tell if the update is running or if Windows has just got stuck: just a second after you forced a reboot, Windows update might have finished and you won't have had to do all the Windows sanity checks due to a forced restart and waste even more time!

I also created an add-on for my Turing machine: the Oracle. This is another theoretical component which answers questions like: "can you find a way to pack all my math books in my backpack?". I used this to prove that if Windows gets stuck in an update there no advise of what is best to do, and other people are still using it to prove similar theorems today.

My work on computers and algorithms was done when the idea of computer wasn't really known to the public: transistors (the building blocks) were invented far later (Bell Labs, 1947) and the concept of modern computer (Von Neumann architecture) was invented in 1945, while my Turing machine was invented in 1936 and I pictured with a magnetic tape and mechanically controlled. I wonder how far I would have got if he would have given a real computer to work on?

The equivalent of a Nobel Prize in computer science is now named after me: the Turing Award.

Yet after all I did this is how I was treated…

Despite all my amazing contributions I wasn't treated well by my country as at the time I was alive homosexuality was illegal. I was given the option between prison and chemical castration, I chose the second but it had nasty side effects. Being incriminated as homosexual made me lose my security clearance and my job at Manchester University. The Queen granted me a posthumous pardon in 2013 and the 2017 law in the United Kingdom that retroactively pardoned men cautioned or convicted under historical legislation that outlawed homosexual acts is know as 'The Alan Turing Law'.
My profile link:
https://ias.im/u.194445
---
---
---