Profile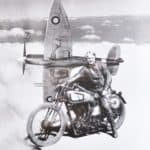 Beatrice Shilling
Put me on the note because I was one of the first female engineers in Britain and my invention for fighter planes made sure we won World War II.
My CV
Lived:

8th March 1909 - 18th November 1990

Occupation:

Aeronautical Engineer

Known for:

Inventing a component to fix the engines of fighter airplanes during WW2 which saved the lives of many pilots.

Field:

Engineering
One sentence about me: I was one of the first British female aerospace engineers and I invented a solution to fix the engines of fighter planes when they were failing during WW2.

About Me:

I was born in 1909 in Waterlooville, Hampshire, the daughter of a butcher. I bought myself my first motorbike when I was 14 which I tinkered with. I was already determined to be an engineer. After school I worked for an electrical engineering company for three years, installing wiring and generators. My employer, Margaret Partridge, encouraged me to study electrical engineering at the University of Manchester. I received my bachelor's degree in 1932 and stayed on for a year to get a Master of Science degree in mechanical engineering.

After graduating I was recruited by the Royal Aircraft Establishment (RAE), the research and development agency of the Royal Air Force (RAF). It was here that I did the work that would change the course of World War II. During the summer of 1940, the Battle of Britain was raging and the Allies were worried about the engines of their Hurricanes and Spitfires conking out in dogfights. When the aircraft performed manoeuvers during battle, the engine would flood with fuel causing it to stall or even cut out. German aircraft did not have this problem and were winning or escaping dogfights as a result. My work on motorbikes and cars helped me to understand the problem and I designed a disc, known later as the "Tilly Shilling", to minimise the fuel flow during flight, completely resolving the issue. It changed the course of the Battle of Britain and without it, we may not have won the war.
My profile link:
https://ias.im/u.194442
---
---
---