Profile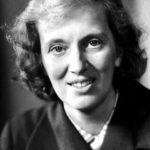 Dorothy Hodgkin
Put me on the note because I'm the only British woman to have won a Nobel Prize in the sciences!
My CV
Lived:

12th May 1910 - 29th July 1994

Occupation:

Chemist

Known for:

Only British woman to have received a Nobel Prize for science - won for developing protein crystallography; a technique used to find the structures of proteins

Field:

Chemistry, X-ray crystallography
One sentence about me: I discovered the structures of Vitamin B12 and insulin, while pioneering a technique used by scientists ever since

About Me:

Although my greatest achievement might be winning the Nobel Prize for Chemistry and being one of a small group of people who kickstarted the technique of X-ray crystallography as a way to discover the structure of proteins and DNA, I hope to also be remembered for the way I lived my life.

Despite marrying Thomas Hodgkin in 1937, it was only in 1949 (after we'd had 3 children) that I started actually using his surname rather than my maiden name Crowfoot when I published my work. Amazingly, I was the first woman at the University of Oxford to receive paid maternity leave and after winning the Nobel, I used some of the prize money to establish a nursery at Somerville College at the University of Oxford.

Apparently Margaret Thatcher was inspired by me as a woman with children who surpassed the men at the top of my field, but we did not share our politics. I was banned from the USA in the 1950s due to my socialist connections, supported the miners strikes, spoke out against apartheid, and accepted the Lenin Peace Prize in 1987.
My profile link:
https://ias.im/u.194465
---
---
---