Profile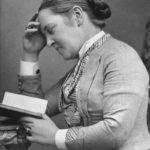 Elizabeth Garrett Anderson
I led the way for women to enter medicine!
My CV
Lived:

I was born on the 9th June 1836 in Whitechapel, London and died on the 17th December 1917 in Aldeburgh in Suffolk

Occupation:

I worked as a doctor (when women weren't allowed to be doctors), set up my own medical practice, then co-founded the London School of Medicine for Women (which became the Royal Free Hospital/UCL), and was Dean of my medical school until I retired in 1902

Known for:

I'm known for standing up for the rights of women. I paved the way for women to be able to study medicine and I believe that biggest danger to women's health is "not education but boredom and that fresh air and exercise is preferable to sitting by the fire with a novel". I was a suffragette and met Emmeline Pankhurst. After I retired to Aldeburgh, and after my husband's death, I became the first lady major in England

Field:

Medicine, education, women's health, gynaecological conditions, suffrage
One sentence about me: I was the first woman to openly qualify as a doctor in Britain and I set up a medical school for other women

About Me:

I am a determined, intelligent, efficient and cheerful person.  I started off my career as a nurse, but wanted to be a doctor.  Being unable to gain entry to any of the medical schools, I gained the required certificates, then gained a licence to practice medicine.  I co-founded, and was Dean, of a medical school of educate other woman.

I am a firm believer in women's rights and was a suffragette.

I was happily married to my husband James Anderson from 1871 until he died in 1907, and we had three wonderful children together.  Although Margaret died as a baby, my eldest daughter became a pioneering medical doctor, Chief Surgeon of the Women's Hospital Corps and a Fellow of the Royal Society of Medicine, and my son Alan was director of the London, Midland and Scottish Railway and served on the board of the Bank of England.
My profile link:
https://ias.im/u.194450
---
---
---