Profile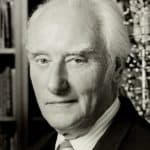 Francis Crick
Put me on the 50 note as I Co-discovered the structure for DNA.
My CV
Lived:

8 June 1916 – 28 July 2004

Occupation:

Molecular Biologist, Biophysicist, and Neuroscientist

Known for:

A co-discoverer of the structure of the DNA molecule in 1953.

Field:

Molecular Biology
One sentence about me: I embraces my qualities and strive to achieve excellence in biomedical research

About Me:

I was born in Northampton 1916 in a small village, I had a younger brother and went to the local school. My father and uncle ran the family boot and shoe factory. I loved to read books about Science and I enjoyed learning new skills with my uncle in the shed at the bottom of his garden such as glass blowing. When I was 14 years old I won the Walter Knox prize for Chemistry. I earned my Bachelor of Science degree in Physics when I was 21 from University College in London. I started my PhD, but the second World War halted that after a bomb fell through my lab roof and destroyed my experiment apparatus. I also worked in a lab during the war which designed mines for war.

Post war I became a molecular biologist, biophysicist, and neuroscientist. I was a co-discoverer of the helical structure of the DNA molecule in 1953 with James Watson, Rosalind Franklin and Maurice Wilkins. We were jointly awarded the 1962 Nobel Prize in Physiology or Medicine, for our discoveries concerning the molecular structure of nucleic acids and its significance for information transfer in living material.

I am also known for the use of the term "central dogma" to summarize the idea that once information is transferred from nucleic acids (DNA or RNA) to proteins, it cannot flow back to nucleic acids. In other words, the final step in the flow of information from nucleic acids to proteins is irreversible.

During my life I married twice, fathered three children and was grandfather to six grandchildren. In my final career years, I was a Research Professor at the Salk Institute for Biological Studies in California. My research was centred on theoretical neurobiology and attempts to advance the scientific study of human consciousness. I remained in this job until I sadly passed away in 2004 when I lost my battle with Colon cancer.

Vote for me:

Please vote for me and my life long dedication and love for Science.
My profile link:
https://ias.im/u.194454
---
---
---