Profile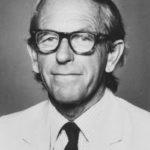 Frederick Sanger
My CV
Lived:

13th August 1918 - 19th November 2013

Occupation:

Biochemist

Known for:

Winning 2 Nobel Prizes for work on the structure of insulin and development of a method for sequencing DNA

Field:

Biochemistry, genetics
One sentence about me: Of the three main activities involved in scientific research, thinking, talk­ing, and doing, I much prefer the last and am probably best at it - I am alright at the thinking, but not much good at the talking.

About Me:

Unlike most of my scientific colleagues, I was not academically brilliant. However, when it came to research where experiments were of paramount importance and fairly narrow specialisation was helpful, I managed to hold my own even with the most academically outstanding.

Through this hardwork and with the help of many brilliant colleagues, I was lucky enough to win 2 Nobel Prizes (and am one of only 2 people to have received 2 Prizes in the same category – in my case, Chemistry). The first was for work on the structure of insulin in 1958 and the second was for development of a technique to read the sequence of DNA, which was awarded in 1980.

However, I believe that we have been doing this not primarily to achieve riches or even honour, but rather because we were interested in the work, enjoyed doing it and felt very strongly that it was worthwhile. Scientific research is one of the most exciting and rewarding of occupations. It is like a voyage of discovery into unknown lands, seeking not for new territory but for new knowledge. It should appeal to those with a good sense of adventure.

I spent most of my career at the Medical Research Council Laboratory of Molecular Biology in Cambridge after having joined as head of the Protein Chemistry Division when they first opened in 1962. But despite enjoying the research, I decided to retire at 65 so that I could spend more time with my wife, 3 children, gardening and messing about in boats.
My profile link:
https://ias.im/u.194446
---
---
---