Profile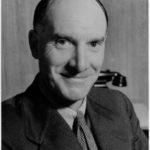 Sir Geoffrey de Havilland
Put me on the note because I designed aircraft that pushed the boundaries of what was considered possible, including the forerunner to all modern jet airliners; The Comet!
My CV
Lived:

I was born in High Wycombe on the 27th of July 1882. I lived in many places including Rugby, Birmingham, and London. I died on the 21st of May 1965.

Occupation:

I've had many jobs in my life, many in design and engineering. I am best known for my work as an Aircraft Engineer and test pilot. A was also in the Royal Flying Corps Reserves and flew aircraft between Aberdeen adn the Firth of Forth protecting British shipping from German U-boats.

Known for:

I am best known for designing the Mosquito multi-role combat aircraft; the fastest warplane in the world for 2 and 1/2 years with a speed of 425 mph at 30,000 feet! I also designed the world's first commercial jet airliner; the Comet. The Comet 4 operated the first trans-Atlantic Jet service on the 4th of October 1958.

Field:

Aerospace Engineering
One sentence about me: I am an Aircraft Engineer who designed the well known Mosquito multi-role combat aircraft during WW2 and the Comet jet-airliner after the war.

About Me:

My name is Captain Sir Geoffrey de Hevilland, OM, CBE, AFC, RDI, FRAeS, and I am an English aviation pioneer and aerospace engineer.

My Mosquito has been considered by many to be the most versatile warplane ever built and my Comet was the first jet airliner to go into production.

I was born in High Wycombe, Buckinghamshire in July of 1882.

I went to the Crystal Palace School of Engineering from 1900 to 1903.

First I pursued a career in the automotive industry, building cars and motorcycles.

In 1909 I married and then almost immediately embarked on a new career of designing, building and flying aircraft, to which I devoted the rest of my life.

The D.H. 106, Comet 4, four Rolls Royce Avon engines, with wing tanks for longer range.

Cut-away image of the Comet Jet Airliner

Vote for me:

Please vote for me to be on the new £50 note.

https://50note.imascientist.org.uk/vote/?cid=194441

and here on the Bank of England website:

https://app.keysurvey.co.uk/f/1348443/10fc/

My face and Mosquito aircraft on a Federated States of Micronesia postage stamp from 1994.
My profile link:
https://ias.im/u.194441
---
---
---