Profile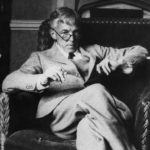 Godfrey Harold Hardy
Put me on the note because even though I'm shy and a bit weird, I showed the world that it's ok to love maths purely for its beauty. Maths does not have to be useful.
My CV
Lived:

7 February 1877 – 1 December 1947

Occupation:

Mathematician (lecturer and researcher)

Known for:

Showing the world the beauty of mathematics

Field:

Mathematics, though his work is also widely used in genetics
One sentence about me: I'm a bit of a weirdo, but I showed the world that it's ok to love maths because it's beautiful, not because it has to be useful.

About Me:

I was born on 7 February 1877 in Cranleigh, a prosperous village in Surrey, England. My mum and dad were teachers – they came from poor families and couldn't go to university, but they were very fond of mathematics. I have a younger sister, Gertrude – we are very close (although one day I unintentionally hit her with a cricket bat so badly that she had to be fitted with a glass eye… It was horrible, but actually it brought us even closer together, and she looked after me in my old age).

I have always been interested in numbers. I was brought up in a religious Victorian household and had to attend church services regularly – but there I spent my time factorizing the numbers on the hymn board!

I did not enjoy school; life there was too harsh for a shy and frail boy like me. As a top student during my school days, I received many prizes and awards, but I hated to receive them because the prize giving ceremonies were traditionally attended by the entire school! However, I excelled academically and in 1896, entered Trinity College, Cambridge, with an open scholarship. There, I joined the Cambridge Apostles, a secret society at the university. It was open only to the distinctive students and they liked my "charm, crystalline intellect, aesthetic sensibilities and love for meaningful conversations", so I was pretty popular among the members.

After graduating, I lectured at Cambridge and devoted most of my time to mathematical research.

I preferred my work to be considered pure mathematics, because of my detestation of war and the military uses to which mathematics had been applied. In my book "A Mathematician's Apology" I wrote:

I have never done anything "useful". No discovery of mine has made, or is likely to make, directly or indirectly, for good or ill, the least difference to the amenity of the world.

However, aside from formulating the Hardy–Weinberg principle in population genetics, my famous work on integer partitions with his collaborator Ramanujan, known as the Hardy–Ramanujan asymptotic formula, has been widely applied in physics to find quantum partition functions of atomic nuclei (first used by Niels Bohr) and to derive thermodynamic functions of non-interacting Bose–Einstein systems.

So even though I wanted my maths to be "pure" and devoid of any application, much of my work has found applications in other branches of science… Oh well!

Today, I am remembered for reforming British mathematics by introducing into it a Continental rigour and also for introducing a new tradition of pure mathematics at a time when the British mathematicians dealt mainly in applied mathematics.

I never married. I really love cricket. I am an atheist and I always thought God was my number one enemy – to fool God, I would often take thick sweaters, umbrella, mathematical papers and students' examination scripts to the cricket ground; my theory was that God would think I expected rain, so would provide sunshine! It worked. Sometimes.

I am a pacifist – the two World Wars were not only very painful to me, but they also made me angry that Europe had got involved in such meaningless destructions.

I never looked at the mirror and in hotel rooms had it covered with a towel. I also hate posing for photographs and there are only five known photographs of me – so you are lucky to see one of them.
My profile link:
https://ias.im/u.194451
---
---
---