Profile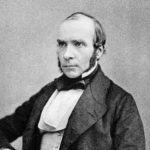 John Snow
I was one of the first epidemiologists! I studied patterns of disease to stop people getting ill
My CV
Lived:

I'm from York but lived most of my life in London

Occupation:

I was a physician and performed all sorts of medical research

Known for:

Discovering that cholera is transmitted by water

Field:

I am famous for being one of the first epidemiologists - we use patterns to figure out the cause of disease
One sentence about me: I studied patterns of infection to find out the source of the 1854 cholera outbreak in London - it was the water pump!

About Me:

As a physician in Victorian London, I was particularly interested in anaesthetics and medical hygiene.  I was one of the first in my profession to investigate how much ether or chloroform a person would need to be put to sleep for their operation and am proud to say that Queen Victoria appointed me as her personal anaesthetist when she gave birth to Prince Leopold and Princess Beatrice!

Most people remember me however, for identifying the source of the Soho cholera outbreak in 1854. Cholera is a deadly stomach infection, caused by bacteria called Vibrio Cholerae but back then, we didn't know this – germs hadn't been discovered and most people thought that diseases were spread by bad smells. I wasn't convinced by that theory though and sought to find the true source of the cholera.

After speaking to local residents, I created a map that showed how those who had caught cholera had one thing in common; their nearest water supply was the public well on Broad Street. I also discovered that workers at the local brewery who drank beer all day instead of water were not catching the disease! This was enough to persuade the local council that cholera was being spread by water. They removed the handle from the pump at the Broad Street well and hey presto! The outbreak ended. Later, researchers confirmed that the well had been dug less than a meter away from an old cess pit which was leaking bacteria into our drinking water. Included in the cess pit was the nappy of a baby who had caught cholera from dirty water elsewhere.

This method of investigating causes of disease is called epidemiology and is still used in 2018 to help us overcome epidemics. Some examples that you might recognise include the linking of air pollution to asthma attacks or the tracing of the West African Ebola outbreak to a home in Guinea.
My profile link:
https://ias.im/u.194449
---
---
---