Profile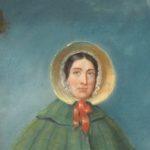 Mary Anning
Put me on the note because my discoveries of ancient reptiles still thrill and inspire today.
My CV
Lived:

I was born in Lyme Regis on 21 May, 1799. I was one of ten children, but Joseph and I were the only two who survived to adulthood. Our family was poor, and life was hard. I lived in Lyme all my life, and died of breast cancer in March 1847.

Occupation:

I became well known in my day as an extraordinary fossil hunter. The President of the Geological Society of London acknowledged me in his annual address in 1848 (sixty years before women were even allowed to join that society), who commented that even though I had to earn my daily bread by my labour 'yet contributed by her talents to our knowledge of the great reptiles'.

Known for:

Some have said that I am 'the greatest fossilist that ever lived'

Field:

Paleontology
One sentence about me: I was a prolific fossil-hunter, and my discoveries of ancient reptiles transformed understanding of life in the Jurassic, and still inspire children two hundred years later.

About Me:

As a child, I was poor, but I had the run of the cliffs and beaches from Lyme Regis to Charmouth. My dad showed me and my brother Joseph how to collect and clean fossils – pieces of shiny pyritised ammonites and other sea creatures – which we could sell to tourists from his shop.My dad died of tuberculosis, that got worse after falling off the Charmouth cliffs, when I was about ten. From then on, I had to find a way to earn money to live.

When I was about twelve years old, my brother and I found an ancient skull in the black rocks of the Lyme cliffs. I'd never seen anything like it before, and spent months working on the cliffs to uncover the rest of the skeleton – which was huge, and over 5 metres long. After we had cleaned it up and mounted it, my mum sold it to the local squire, Henry Henley for £23; and after some years it ended up in what is now the Natural History Museum in London, where it is still on display. It wasn't the first fossil of its kind – Edward Lhuyd had described some parts of a dilapidated creature about 12 years before – but it was certainly the most complete. You'll probably know my creature by the name Ichthyosaurus, meaning 'fish lizard'.

Although most people who have heard of me may only know of that chance childhood discovery, in fact I went on to make many more and significant discoveries, including the first complete fossilised skeleton of a plesiosaur (a long-necked marine reptile). Later I also found the first fossil pterosaur outside Germany – a flying reptile. I hear that this may later have been the inspiration for Michael Crichton's Jurassic World!

In my adult years, I sold specimens of mine around the world, and worked closely with prominent gentlemen of geology. They moved in social and professional circles that I couldn't join, what with my being a woman of few means from a non-conformist background. Nonetheless, I brought knowledge and skills to the table that they couldn't match. I knew the bones so well, that I could immediately tell from a fossil fragment which creature it was from. Dr William Buckland, who was a geologist in Oxford and frequently came to Lyme on holiday, was mightily impressed by my discovery of the plesiosaur in 1823. He told me he thought the discovery was 'one of the most important additions that geology has made to comparative anatomy'. In his view, the plesiosaur combined 'the head of a Lizard .. the teeth of a Crocodile .. a neck of enormous length, resembling the body of a Serpent .. the ribs of a Chameleon, and the paddles of a Whale'. I never thought much of his grasp of anatomy.

This scale sketch comes from a letter that I wrote to one of the gentlemen who had enquired about purchasing the Plesiosaur.

'I have endeavoured in a rough sketch to give you some idea of what it is like. Sir, you understand me right in thinking that I said it was the supposed Plesiosaurus, but its remarkable long neck and small head shows that it does not in the least verify their conjecture in its analogy to the Ichthyosaurus. It is large and heavy, but one thing I may venture to assure you it is the first and only one discovered in Europe. Colonel Birch offered one hundred guineas for it unseen, but your letter came one days post before.'

In the end, I sold the plesiosaur skeleton to the Duke of Devonshire for the equivalent of two fifty-pound notes. He made it available to Dr Buckland, who in turn showed it to William Conybeare. At a meeting of the Geological Society in 1824, Conybeare described my plesiosaur, though he didn't acknowledge me as the discoverer; and William Buckland described the first dinosaur, Megalosaurus.

In my heyday, I had collectors from across the world wishing to buy my latest specimens, and even had a personal visit from the King of Saxony. But since I was never a professional scientist and lived in an era when I couldn't be a member of the scientific societies that would meet to discuss the latest discoveries, many of my contributions to science were overlooked at the time. Indeed, I understand that it is only in recent years that you can find my name associated with some of my most famous fossils on display.

I have run out of time to tell you about my discoveries of coprolites – fossilised poo; this will have to wait for another time! I will leave you instead with a famous picture of Jurassic life – called Duria antiquior, or 'a more ancient Dorset'. Henry de la Beche, who was a childhood friend, created this in 1830, inspired by my many discoveries.
My profile link:
https://ias.im/u.194444
---
---
---