Profile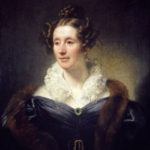 Mary Somerville
I should be on the note because I made it possible for people to truly engage with the science of my time.
My CV
Lived:

I was born in the Scottish Borders on Boxing Day 1780, where my family were visiting my aunt. We actually lived in Fife. I married in 1804 and we moved to London, I returned to Scotland with our 2 sons in 1807 when my husband died. In 1812, I remarried and we lived in Edinburgh and London, moving to Italy in 1840 as my husband wasn't well. I spent my final years in Naples, where I died in 1872.

Occupation:

I was fortunate in that my first husband left me a reasonable pension, so our children were well looked after and I could pursue my interest in maths and physics, which my second husband really encouraged me in. I was awarded prizes for a variety of my work, which came with some money, and I also wrote a lot of popular science books.

Known for:

I think I am probably most known for having a college named after me at Oxford University, but my translation of "The Mechanisms of the Heavens" by Laplace (from French) is my mathematical legacy.

Field:

Maths, astronomy, geography and formation of the Earth.
One sentence about me: I am the first person that the word "scientist" was used about, as well as the first great science communicator and a mathematician.

About Me:

As a child, I was taught to read by my mother, but not write, it wasn't expected that women would actually do anything with their lives.  Indeed, I was sent to school to learn needlework, as all the reading I was doing was considered too manly!  My first husband followed in this idea, he let me study, but he didn't ever think it would come to anything.

Being in Edinburgh was fantastic for me.  Me and my sons lived on the pension left when my husband died.  It meant I could finally study, I was greatly encouraged in maths, from people at the University and by my second husband.  I was asked to create translations of some of the biggest works of maths at the time, I didn't feel too confident I could do it.

After the great success of my translations, I decided to write my own things.  I wrote about lots of things: physics, the structure of the Earth, how the Earth fits within the solar system, how all of science is connected (hence the term "scientist" being used, it was a term created to describe me, as before that "man of science" was the popular term).

My book Physical Geography won me a prize from The Royal Geographical Society (which we were really pleased about as, even though my husband was a surgeon, we sometimes had money problems).  I find it incredible that it was a standard textbook for over 50 years.

One of my other books, Connexion, which looks at astronomy, and where I provided some of the maths to suggest that there is a planet beyond Uranus, sold over 9000 copies.  Nobody sold more copies of single book until Darwin wrote his Origin of Species.

From a really young age, I was infuriated by inequality.  Me and my brother Sam used to refuse tea in our sugar, in support of an end to slavery.

I believe I could have done more if I had been taught have to write younger, as well as being permitted a full education.  My own education was woefully short: 1 year at school to learn the basics of writing, French and English grammar.  My brothers, on the other hand, had a full education, even including Latin and algebra, both of which I taught myself later.  Being female didn't help me to be as successful as I maybe could have been, but being joint first female member of the Royal Society was a great honour.  I believe that women can truly achieve greatness, in any field, and that they have just as great a capacity as men; which is why I was the first signature of the very first government petition for women to get the vote.
My profile link:
https://ias.im/u.194448
---
---
---