Profile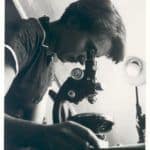 Rosalind Franklin
Put me on the note because my work on DNA helped revolutionise the science of biology and genetics, but I missed out on a Nobel Prize because I died at the age of only 37.
My CV
Lived:

25 July 1920 - 16 April 1958

Occupation:

Research chemist

Known for:

Providing the data that enabled Crick and Watson to determine the structure of DNA

Field:

X-ray crystallography
One sentence about me: Without my work, Crick and Watson would not have been able to work out the structure of DNA - and if my colleague Maurice Wilkins hadn't shown them my data, I might have got there first.

About Me:

I am a scientist through and through. My work aims to understand the molecules that make up life on this world. When I am not working in the laboratory, I am probably on vacation in France, sampling the fine food or hiking in the Alps.

I did both my first degree and my PhD at the University of Cambridge, before moving on to research work in Paris, King's College London and finally Birkbeck College.  My main field of research is the use of X-ray crystallography to study the structure of chemicals important to life, such as proteins and DNA, and even whole viruses.  X-ray crystallography is a technique that uses the scattering of X-rays off crystal surfaces to determine the spacing between atoms, and so eventually deduce the structure of the molecule.  My most famous work was on DNA: Photograph 51, which I took with my PhD student Raymond Gosling, clearly showed (to anyone with an understanding of crystallography) that this molecule had a double-helix structure.
My profile link:
https://ias.im/u.194438
---
---
---